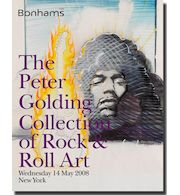 The hippies are really coming out of the woodwork as the media celebrates 1968 and all that. Prices for underground magazines such as Oz – the magazine that made Felix Dennis's name – are going through the roof. A copy of issue 5 from July 1967 sold for £561.30 on Ebay in May last year. A February 1967 first issue sold for £560 in September (one cost just £360 in 2006).
In December in London, a complete run made £3,600 and an almost complete run of International Times, fetched £3,000. That looks cheap compared with what's on offer on Ebay at the moment – £5,999 starting bid for a set of Oz, £9,999 for a buy it now – and he wants £29.95 for the postage!
Probably better to fly to Bonhams in New York, which is auctioning a complete set on May 16 with a guide price of $3,000 – $6,000 (that's about £1,500-£3,000, so for £10K you could bag the lot and have a good holiday).
It's part of a collection put together by fashion designer Peter Golding. It's worth taking a look at at his Inspirational Times 3D exhibition.
More on: collecting magazines and eBay prices
LOOK OUT FOR: British Magazine Design, a new, highly illustrated book from the Victoria and Albert Museum
Tags: 1960s, 1968, auction prices, International Times, oz, Oz magazine, Peter Golding, underground magazines